Golf coaching is all about you the golfer and how I can help you to improve and understand more about your game. With the aid of our state-of-the-art TrackMan technology the learning process is not only easier but brings a new level of fun and understanding to each lesson covering all areas from swing improvement to shot patterns, fault fixing to course management.
Why Coaching?
My aim and passion is not only to help you to play better golf but also to learn and understand more about how your game works in a relaxed and fun environment.
Every golfer enjoys the game more when they're hitting good shots and playing well. That is my mission for you.
Think back to your last few rounds and try to pinpoint an area that cost you shots…
Maybe, you had too many three-putts as a result of poor distance control? Or did you miss too many fairways to the right meaning you had to chip out sideways? It could be that you play well in practice rounds with your friends but struggle to replicate that in competitions?
Through my experiences in the game and PGA education, I appreciate that every golfer is different. That's why I offer a bespoke range of lessons and packages to suit everyone.
Lessons will cover:
Swing Basics
Short Game
Long Game
Course Management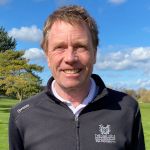 Alisdair Currie - PGA Head Professional
---
Being a complete novice, I attended the first lesson with some trepidation but Al's personable and easy going nature made for a very relaxing atmosphere. Al set about assessing what needed to be done to improve my game using both his experience and the TrackMan technology. I think for me, it's not just about enjoying the improvements as a result of the coaching, I need to enjoy the coaching sessions themselves, and I certainly do and am now seeing the improvements and ready to progress to the course.
Jim Emerson - Club Member
I started playing golf quite a few years ago and like most golfers felt like I was getting on ok and thinking I was improving. I then made a decision that I would like to not only play better golf but also understand the technical side and it was at this point I made contact with Al and have to say that I was blown away with the studio and Trackman. The information and feed back and the expertise of Al 's coaching is invaluable it's a bit of an addiction striving for perfection and I enjoy the challenges given to me. I would just like thank you Al for helping me in the journey.
Tim Hyde - Club Member